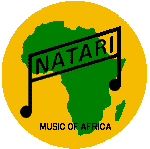 W E L C O M E
You have arrived at the home page of
N A T A R I

My name is Nick and welcome to my website dedicated to the music of Africa. I have been a collector of African music since the early 80's and in those days the music available in U.K. shops was very limited. So I started to get friends, relatives and anyone else who was visiting Africa to bring me back what they could and it was nearly always on cassette with a few records now and again. Today, records and cassettes have disappeared from our shops, replaced by the CD and the 'Download'. However, even today those CD's and downloads account for only a tiny fraction of Africa's musical output and most of the artists we hear of seem to live here in the Western World not in Africa anyway. Over there, the cassette still remains a popular and affordable format on which most music was and is still available. This web site is one of the very few sources of information about the huge majority of albums which have only ever been released on cassette. You will find plenty of images, track listings and music clips to listen to. I am sure you will appreciate when you take a look that to do it for every album is a huge task that I don't envisage ever being completed, at least not in my lifetime anyway. However if you specifically request any extra information, if time allows I will be happy to provide it. I hope you enjoy browsing through the music and information and look forward to hearing from you.
All the best
Nick

PS. I am always happy to sell but I am also happy to swap and buy as well.
Due to moving house in September most of my music is still in boxes so please don't expect 24 hour delivery as it might take that long to find the item you want!